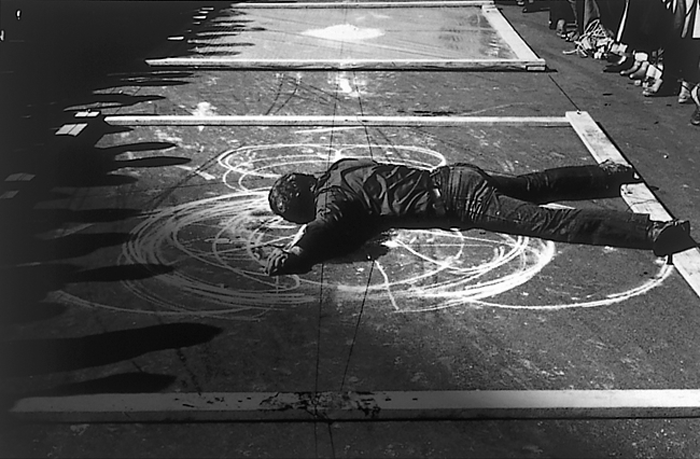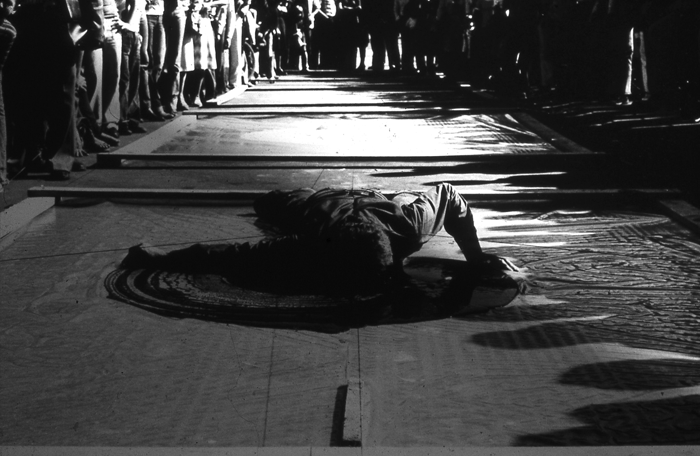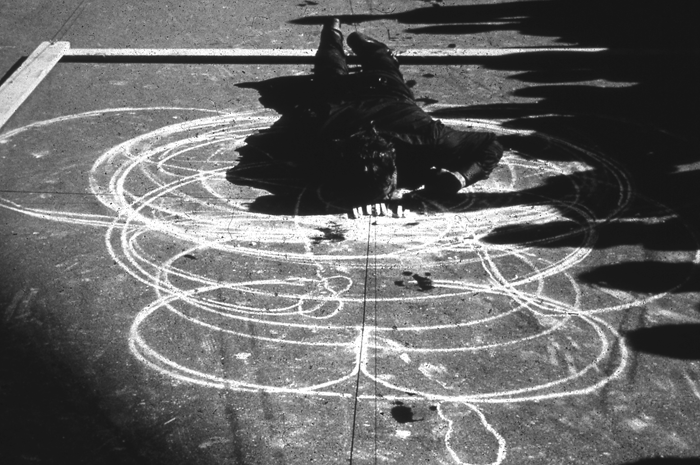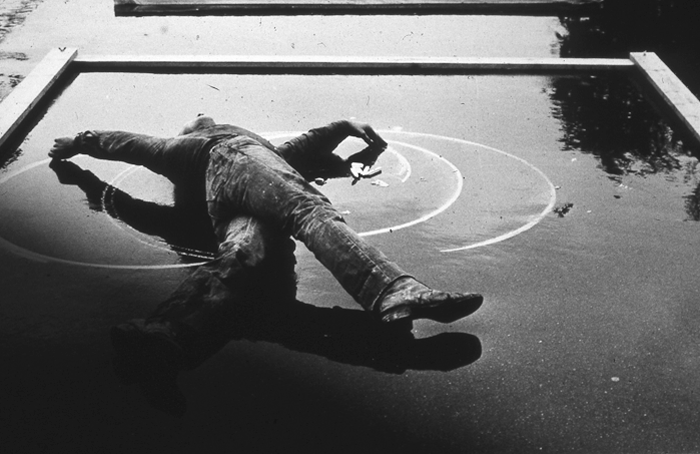 Performance duration: 3 days
This work took place over three days on the quayside of lake Constance in Bregenz. I made five wooden frames the size of my body with outstretched arms. Clear polythene was stretched across two of the frames to prevent paint leaking on to the quay. Black nylon cord was tied to form a cross shape on each frame. The frames were laid out in a line stretching towards the lake.
I placed my body under the cord under he first frame, then stretched to express the extent of the body's reach. Likewise with the second frame and used water to leave a fading residue of the body on the ground. In the third frame I used chalk to define the limitations of the body drawn on the ground. In the fourth frame I poured black paint and made the same movements.
Likewise with the fifth and last frame using white paint.
Whereupon I walked a few steps to the quayside, dived into the lake and swam out, then round the end of the quay where I was picked up by a boat.
I repeated these actions three days. The build up white lines of the chalk I used could be seen.
On the first day there were perhaps about 10 people, and on the last day perhaps 500.
I conceived this work from listening to miners talking about the constrictions. imposed on the body in mining the narrow seems of coal. But this work is not about mining. The title tells the subject of the work.
Stuart Brisley 2010
'Beneath Dignity, Bregenz' (1977) was performed in conjunction with an exhibition of British art in Austria (Englishe Kunst der Gegenwart in September 1971); Brisley was invited by Norbert Lynton to take part. Brisley had worked during this year on an Artist Placement Group project in Peterlee in a community of miners and the title is indicative of his sympathy with the miners, and the lowness (and implied loneliness) of their working conditions. The work that preceded it had a similar preoccupation with digging and working in appalling conditions.

In Bregenz he was presented with a strikingly different environment: a picturesque town by the side of a lake (Lake Constance) with a small mountain behind. This work is a response to this setting, the movement from mountain to flat ground and the lake (from the vertical to the horizontal). He chose to work on a quayside, using five roughly constructed frames which marked the limits of his physical reach. The materials which he employed were water, chalk, powder (flour) and paint (black and white). He made five separate statements using each of the materials, working in all for four days. In order to reduce the drama of the work (a character that Brisley abhors) the fifth frame was a mixture of black and white. On the last day the audience was large and Brisley avoided a climax to the work by jumping into the lake and swimming, replicating his drawing action in water, another medium. He describes his action here as similar to the other works in the Tate's collection, showing a preoccupation with formal, sculptural problems. It is possible however that Brisley may, in hindsight, be emphasising this aspect at the expense of his political concerns.

The photographer for this work was his friend Janet Anderson; he preferred her photographs to those of a trained photographer, who he felt would have a particular and exclusive aesthetic. The viewpoint for these photographs was fixed and decided upon by discussion between Brisley and the photographer.

Published in:
The Tate Gallery 1980-82: Illustrated Catalogue of Acquisitions, London 1984