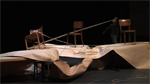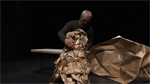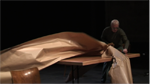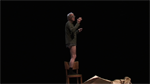 The video The Last Breath is the culmination of four performances under the title The Last Breath. The subject is derived from memories of two experiences of approaching death. The first was at Speakers Corner in 1967, when a speaker spoke of his immanent death. The other is derived from being the sole witness to a man burning to death in an East London park in 1998.
In December 2006 a video was filmed at the performance in the Schlacthaus Bern, under the Bone progamme. Stills for the video were photographed in the vicinity where the death took place in the park.
Ultimately death lies beyond rational consideration.
The performances and the video approach the subject where there is no adequate understanding: once the last breath is taken which is a consummately banal description of our understanding of it. The video approaches this conundrum as best it can.
Stuart Brisley
May 2010