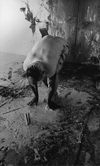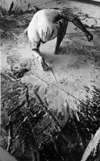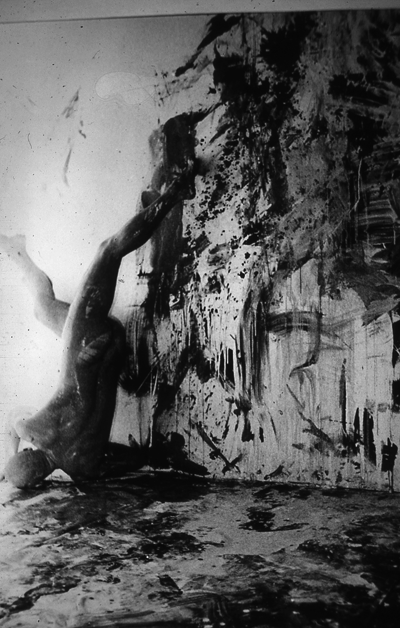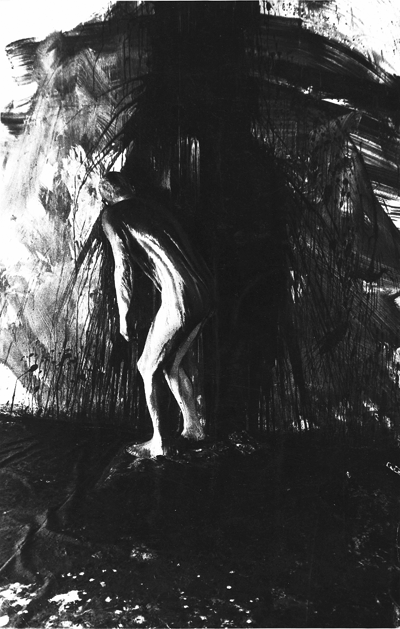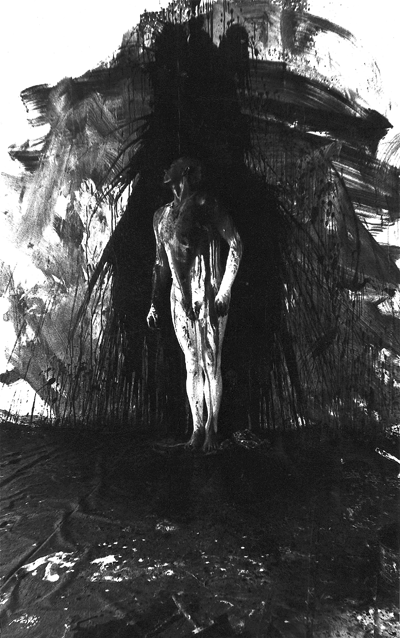 Please see the text section for letter from Jozef Szajna, director of Teatr Studio, 1975.
Please see the text section for Stuart Brisley's text, 'The Photographer and the Performer' from 'Live Art on Camera: Performance and Photography' by Alice Maude-Roxby, John Hansard Gallery 2007.
Moments of Decision /Indecision
Teatr Studio, Palac Kultury i Nauki, Warsaw, 1975.
I was offered a DAAD fellowship to live and work in West Berlin for a year in 1973/74. At the time the prevailing tendency was to look across the Atlantic. I decided to look beyong the Wall. Hence the subject of this work: Trials of attempting to climb a wall.
The first thing I did was to go to Warsaw where I met Józef Szajna, the Director of Teatr Studio.
I was offered an opportunity to make a work at the studio in 1975.
It was subsequently titled Moments of Decision/ Indecision.
The work was situated in a large room half of which I designated for the performance which took place over six days.
I attempted to climb up the wall at the end of the room without aid. The floor was covered in black and white paint in liberal quantities. This impossible task produced a number of actions .
I was naked with shaven head. In the attempts to climb the wall I became covered in paint and lost my sight on each of the six days. At this point the photographer who came with me from West Berlin acted as my guide. Telling where I was in relation to the wall. The title refers to this situation where the photographer made decisions both through the camera and in becoming my sight guide. I was the photographed subject moving at will but unable to see hence the term indecision. There are a number of ways to interpret what happened given the sharp context of the work and the fundamentally separate ideological conditions between East and West at the time.
In English language the word attempt is synonymous with meanings such as from which reason recoils, speculation, failure, fall flat.
Some of the resulting photographic images have become art works in their own right.
Stuart Brisley, London 2012