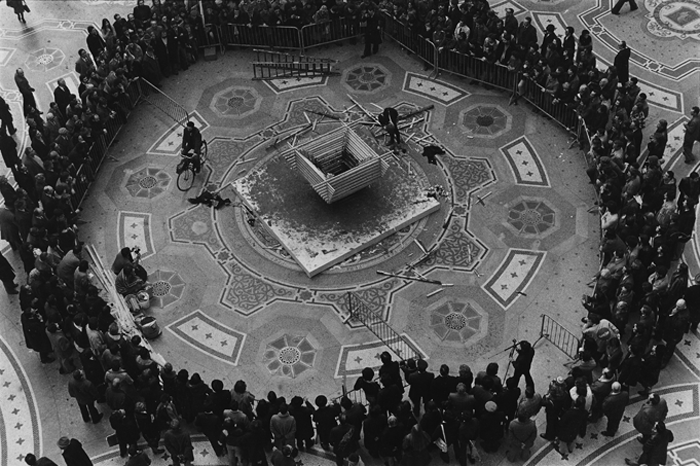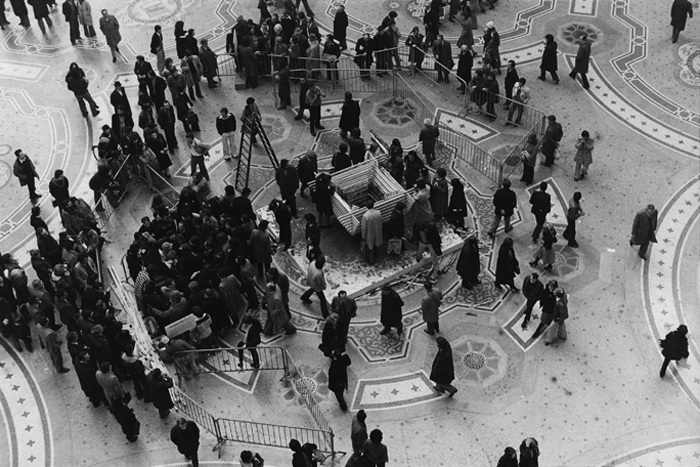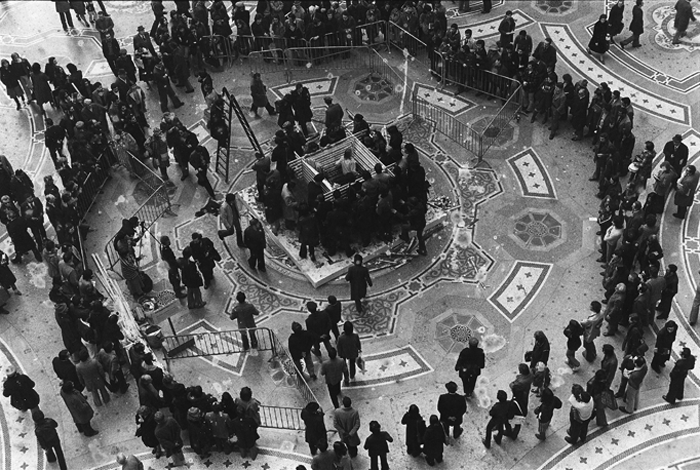 Please go to the Text section for:
- Stuart Brisley's statement in the catalogue for Arte Inglese Oggi, November 1975;
- A text by Sharon Behr 1976.
Arte Inglese Oggi 1960-76, organised by the British Council and the Comune di Milano, took place at the Palazzo Reale and nearby venues between February and May 1976. It presented to the Italian public an overview of the art being made in Britain at the time, and included sections on Painting, Sculpture, "Alternative Developments", Performance Art and Artists Film. As part of the exhibition Stuart Brisley created a performance in the centre of the Galleria Vittorio Emanuele II. This work he entitled Homage to the Commune. On a raised platform Brisley constructed a wooden structure representing a rose, the symbol of the commune. This became both a prop, and a centerpiece around which Brisley performed a series of actions representing freedom of expression and the breaking out of, and away from, societal norms. These included the pouring and spreading of paint, using his body as a tool, and the cutting and shedding of his clothing. The end point of the performance was the cutting of the "rose" by chopping down its stem. Brisley's original intention was that the flower of the rose would then be picked up and carried by the audience in order to symbolize a sense of community. What actually happened, however, was different. In Brisley's words: After I opened the barrier encircling the site of the work, a person entered on a bicycle and climbed into the roselike structure. It was as though he entered into the heart of the work. Did he intuit what he was doing? I accepted what he had done as the moment of completion. He did so in a public manner, which I understood as a symbolic act of completion in a collective sense. It superceded what I had originally conceived, which would have been clumsy by comparison. It represented one of the attributes of performance, and art in general, where in the process, sometimes actual events can be more meaningful to the essential idea of the work than the a priori speculation as to an ending.
This has interesting links to the statement that Brisley wrote for the exhibition catalogue of Arte Inglese Oggi 1960-76. In his text Brisley writes of performance: It is not an easily defined activity, and therefore resists categorization. It is not concerned with a kind of mixing of categories for art's sake. Rather more it appears to be a non-alienated organic state, a total condition leading from the initial concept, through process on context, determining a necessary inter-functioning of conditions – art process, social context, political consciousness, collective action. The issues Brisley raises here are very much now at the centre of the debate about the relationship and contradictions between art and the social.
Andrew Mummery, 2013