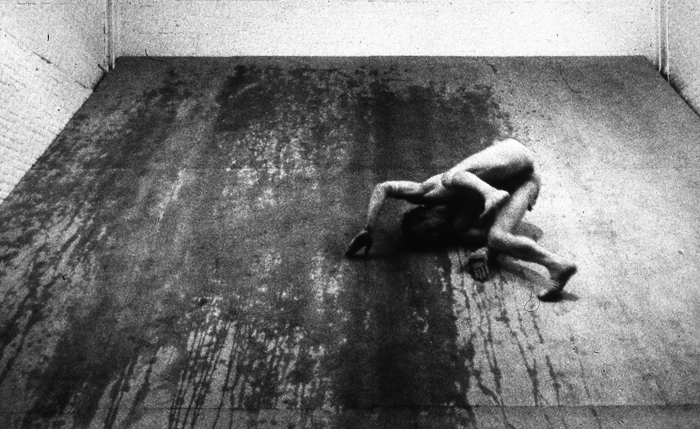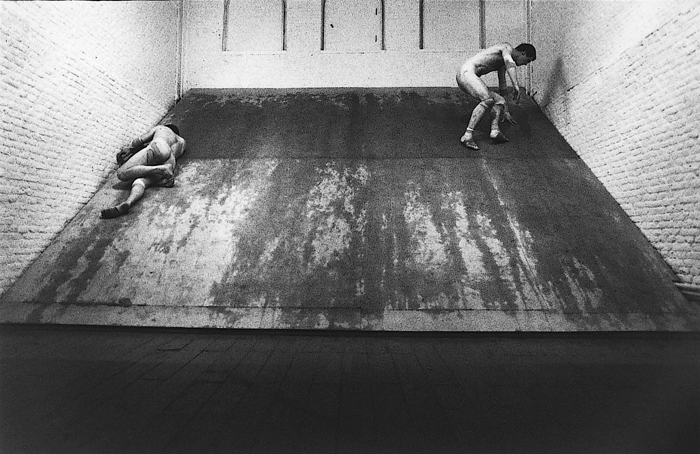 Between
de Appel, 1979
Between was based on Carl Jung's idea of the 4 stages of human life.
1. Childhood
2. Adolescence and early adulthood
3. Adulthood and mid life, between 35-50 years of age
4. Maturity, old age, alignment of the self and the anticipation of death
Two participants, Iain Robertson, aged 24 (in the 2nd stage of life), and the other, Stuart Brisley, 48 (3rd stage of life).
One half the age of the other, and the other double the age of the one.
I did not see this work as a literal interpretation of Jung's ideas, but rather as a springboard to start out with.
It took place in December 1979 for 4 days. Gallery was closed at night and the action was suspended for sleeping, eating etc.
At a specified time the action was ended and the sloping floor was dismantled.
Both persons were naked and bandages were used as 'clothing' to protect when there were injuries.
The marks on the 44 degrees sloping platform were from water which we poured on in order to get a better grip of the surface.
Stuart Brisley, 2015
Please go to Text section for the original notes now kept at Tate Archive