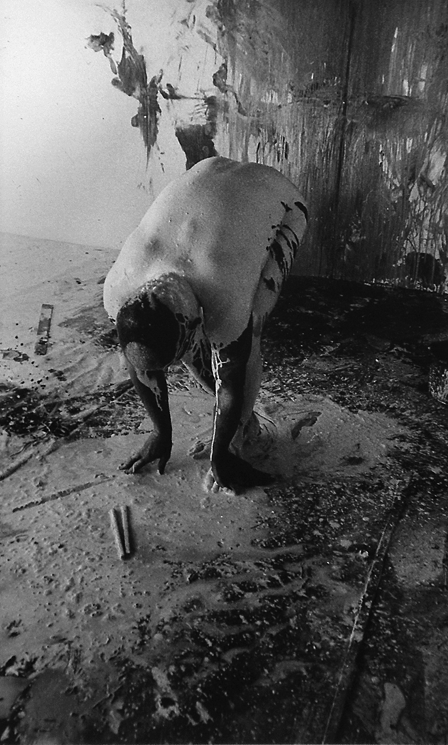 Moments of Decision/Indecision, 1975
Performance, 6 days
Galeria Teatra Studio, Palac Kultury i Nauki, Warsaw
Unexpurgated 135 Chapters of Moby Dick
Online project
One chapter per day starting 16.09.12
Press Release
13 September 2012
Stars have a whale of a time on Moby-Dick project @ www.mobydickbigread.com
An ambitious project designed to bring a literary classic to the attention of a new generation of fans is nearing completion.
The Moby-Dick Big Read has been two years in the making and will run for more than three months from its launch on 16 September at the Plymouth International Book Festival. Some of the nation's best loved stars – from Sir David Attenborough to Stephen Fry, Benedict Cumberbatch and Simon Callow – are among those supporting the project, along with personalities from right across the globe.
A cast of 270 people including community leaders and young people, have created an incredible digital version of Herman Melville's prophetic masterpiece, which was first published in 1851.
The project is being co-curated by Dr Philip Hoare, artist in residence at Plymouth University's Marine Institute, and Angela Cockayne from Bath Spa University, and is hosted by Peninsula Arts at Plymouth University.
Dr Hoare said: "Moby-Dick is a novel that everyone has heard of but, I would suggest, very few people have read. This is a way of introducing it to a new audience and is something people can pick up as and when they choose – it is completely suited to the digital age."
The project will be officially launched with actor Simon Callow reading to a live audience. The first chapter of the book, read by actor Tilda Swinton, will then appear online the following day with a chapter then being released every day.
Speaking about the project Angela Cokayne said: "'Moby-Dick is a shape shifter, as a work it hovers somewhere between natural history, philosophy, autobiography and fiction. A compendium of cetology, anthropology, obsession, prophesy, self-destruction and morality, it is saturated with metaphor. This will be a very contemporary and visual response to a text which is as pertinent today as when it was first written in 1851, and perhaps arguably even more so. A work ahead of its time, revisited its eco-poetics for the 21st Century."
Other highlights include Sir David Attenborough's poignant recording of "Does the Whale's Magnitude Diminish? - Will He Perish?", Stephen Fry in bed with the tattooed Queequeg, Benedict Cumberbatch musing on krill and Hugh Fearnley-Whittingstall and Rick Stein on how to eat a whale.
Other readers include authors China Miéville and Will Self, directors John Waters and Tony Kushner, and pop stars Neil Tennant from the Pet Shop Boys and Catatonia singer Cerys Matthews.
The project also features art works, which will be released online, from Anish Kapoor, Mark Wallinger, George Shaw, Antony Gormley, Matthew Barney, Stuart Brisley, Gavin Turk, Pae White, Marcus Harvey, Boyd Webb and Susan Hiller, among others. Many have created new work for the project, from paintings to installations, sculptures and films and their works are not illustrative, but provocative, risk-taking and even shocking – like Melville's book itself.