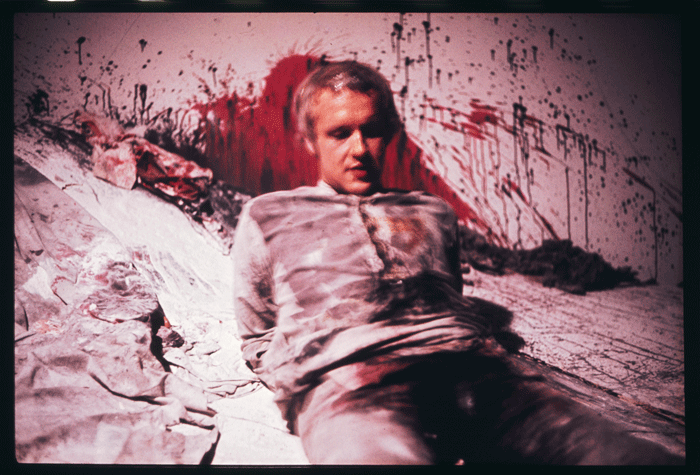 Artist as Whore, 1972
A Bigger Splash: Painting after Performance Art
14 November 2012 – 1 April 2013
Click here to read review in The Guardian
November 2012
Click here to read review in The Telegraph
November 2012
Click here to read review in This Is Tomorrow magazine
December 2012
Tate Modern

A Bigger Splash will take a new look at the dynamic relationship between performance and painting from 1950 to the present day. Taking its title from David Hockney's iconic 1967 image of a Californian swimming pool and Jack Hazan's docu-fiction film about Hockney's life, it will bring together a range of key works by artists including Yves Klein, Jackson Pollock, Cindy Sherman and Karen Kilimnik. Moving through half a century of work in painting, video and photography, and including archival and documentary material, this major group exhibition will show how performance art has challenged and energised the medium of painting for successive generations.

Beginning with Jackson Pollock's radical 'action painting' Summertime 1948, the exhibition will consider how the painted canvas has been used as an arena for performative gestures and experiments, how paint has been used upon the body as a surface, and how painting has, in recent years, been used to create social and theatrical spaces in the work of young artists.

The show will explore the way 'action' painters after Pollock worked in the 1950s, 1960s and beyond, from Nikki de St Phalle shooting paint from a gun onto the canvas, to artists of the Japanese Gutai such as Shozo Shimamoto and Viennese Actionists such as Gunter Brus and Hermann Nitsch. In parallel, the exhibition will also show how paint has been used performatively in explorations of role-play, surface and illusion. Since the 1960s, artists have applied paint as a kind of make-up or drag to their own body or face, engaging with the politics of identity, gender and sexuailty. Moving beyond the canvas to works captured in other media, A Bigger Splash will include videos, such as Bruce Nauman's Art Make-Up 1971, photographs, such as Cindy Sherman's self-portraits disguised as strange characters, and films, such as the costumed fantasies of Jack Smith's Flaming Creatures 1962 with its heavily made-up cast of characters.

The exhibition will consider the painted surface as the trace of an action, as 'masquerade' on the body, and as a literal stage-set for performance, typified by Karen Kilimnik's dream-like installations such as Swan Lake 1992. The exhibition proposes a new way of looking at representational paintings in a theatrical light, and at how contemporary artists use paint within an expanded performance practice. A Bigger Splash will examine this relationship between paint, the body and the gallery space, and reveal the underlying influence of action and performance after the 1950s upon artists working with painting today.

A Bigger Splash is curated by Catherine Wood, Curator of Contemporary Art and Performance, Tate Modern, with Amy Dickson, Assistant Curator of Exhibitions and Displays, Tate Modern. The exhibition will be accompanied by a fully illustrated catalogue by Tate Publishing.
http://www.tate.org.uk/about/press-office/press-releases/bigger-splash-painting-after-performance-art